Xcad Network is a platform made for YouTube users, especially fans of Content creators to earn Creator token rewards for watching their favourite creator, directly on YouTube.
Creators can diversify additional monetisation and interaction schemes which help develop a closer connection with their audience and fans while building additional revenue streams.
NFT Moments
Xcad Network offers its very own NFT Marketplace, developed for content creators and their audiences, with the ease of fiat gateways and simple ways to store NFTs. This marketplace involves NFT moments. NFT moments are certain segments of a content creator's videos which are captured and released as NFTs. These NFT moments can be categorised into four tiers:
Rare – Most iconic moments of a creator's career
Gold – Ultra-special moments within creator's content
Silver – Creator moments which are enjoyed, but may be less popular
Bronze – For the simple, everyday moments in a creator's video
Users can own these special moments by purchasing content creator packs containing them. Xcad vision seeks to bridge the gap between cryptocurrency and the real world, due to the mass reach of their current influencers and beyond.
Products
Influencer MarketCap: Influencers are ranked based on their market capitalisation and number of subscribers. Users can buy their preferred creator's tokens, buy and sell whenever they deem necessary.
XCAD DEX: Users can choose to swap ZIL to XCAD tokens and vice-verse as per their preferences. Besides the token swap, users can also choose to pool or stake their holdings to earn a certain amount of yield.
Governance Network: A portal where XCAD token holders can vote on the milestones in which content creators unlock vested tokens.
XCAD PlugIn: Users are allowed to install a Google Chrome Plugin through which they can create a free XCAD account. Once set up, they can earn creator tokens for consuming tokenized content. Via this, users also get to trade content creator tokens for stable coins, purchase additional content creator tokens or even XCAD tokens, if needed. The plugin works directly with YouTube, in the background while you watch videos.
The CLO Launchpad: This features Creator Liquidity Offerings. Viewers can stake content creator tokens with XCAD tokens in liquidity pools to earn a multiple on rewards earned when consuming their favourite creators content. This provides liquidity for those wanting to trade creator tokens.
Besides supporting existing content creators, XCAD aims to provide an educational platform; the Xcad ecosystem also offers an educational platform consisting of a suite of tools for aspiring creators, a range of guides and classes crafted by established YouTubers — helping aspiring creators stand the best chance of success. This platform will be powered by XCAD tokens.
How does XCAD earn income?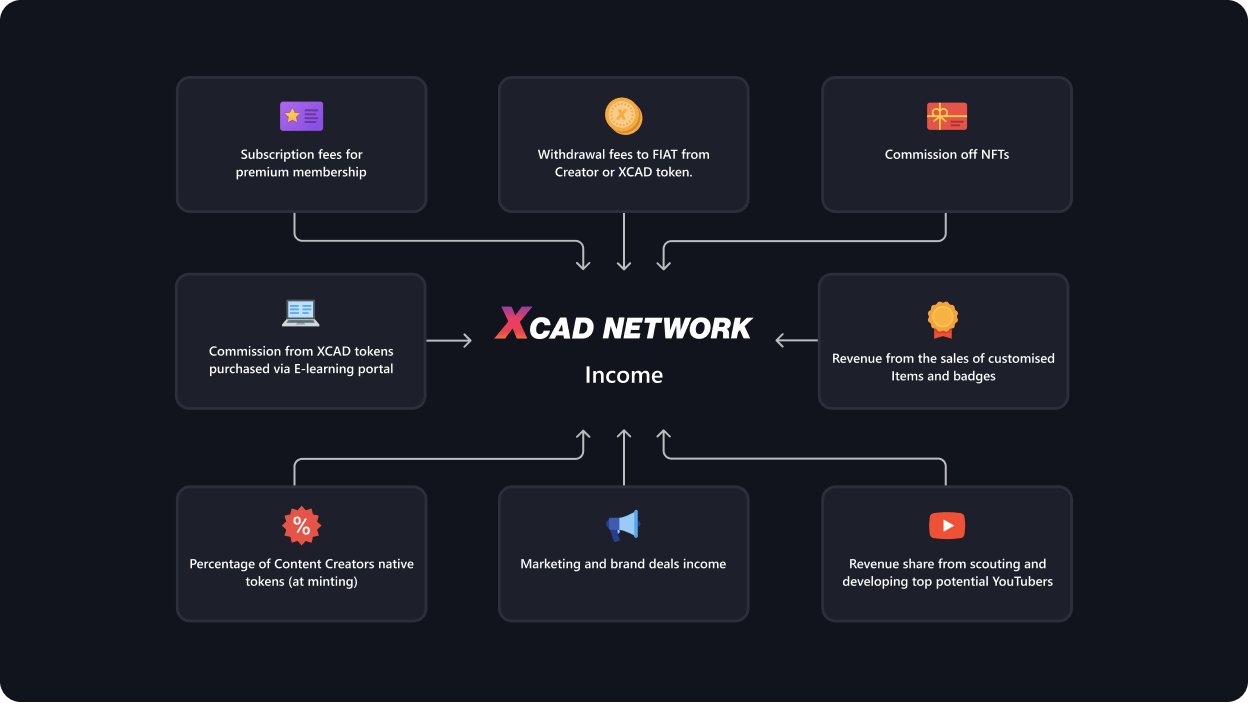 Ecosystem
Creators: Users can find creators with millions of followers such as MillieT, ViruZz, Morgz, Mr. Indian Hacker and more. These creators gain access to an additional layer of monetisation with XCAD which results in a competitive advantage due to increased watch time and engagement amongst fans & viewers, leading to a stronger performance of the video content and fan loyalty.
Fans: Fans boost the existence of creators. They get to watch their favourite creators, use Creator Tokens to vote and participate in their favourite creator's decision making process. In addition, the creator tokens can be used to gain exclusive access to their desired creator's content.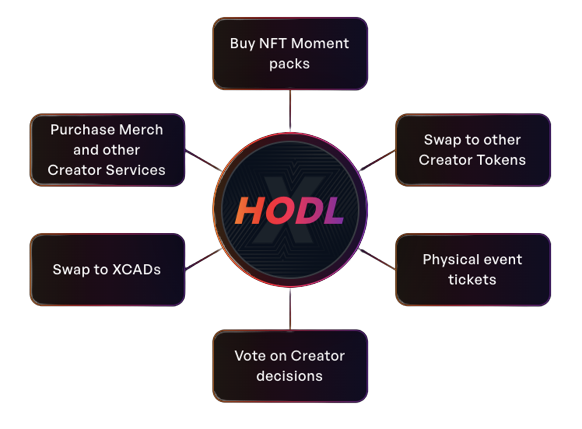 Here's how fans can utilise their creator tokens.
The XCAD token plays a pivotal role in the Xcad Network ecosystem. Besides currency for purchasing creator tokens, users can stake the asset with content creator tokens to earn a multiple on rewards, which takes XCAD tokens off the market.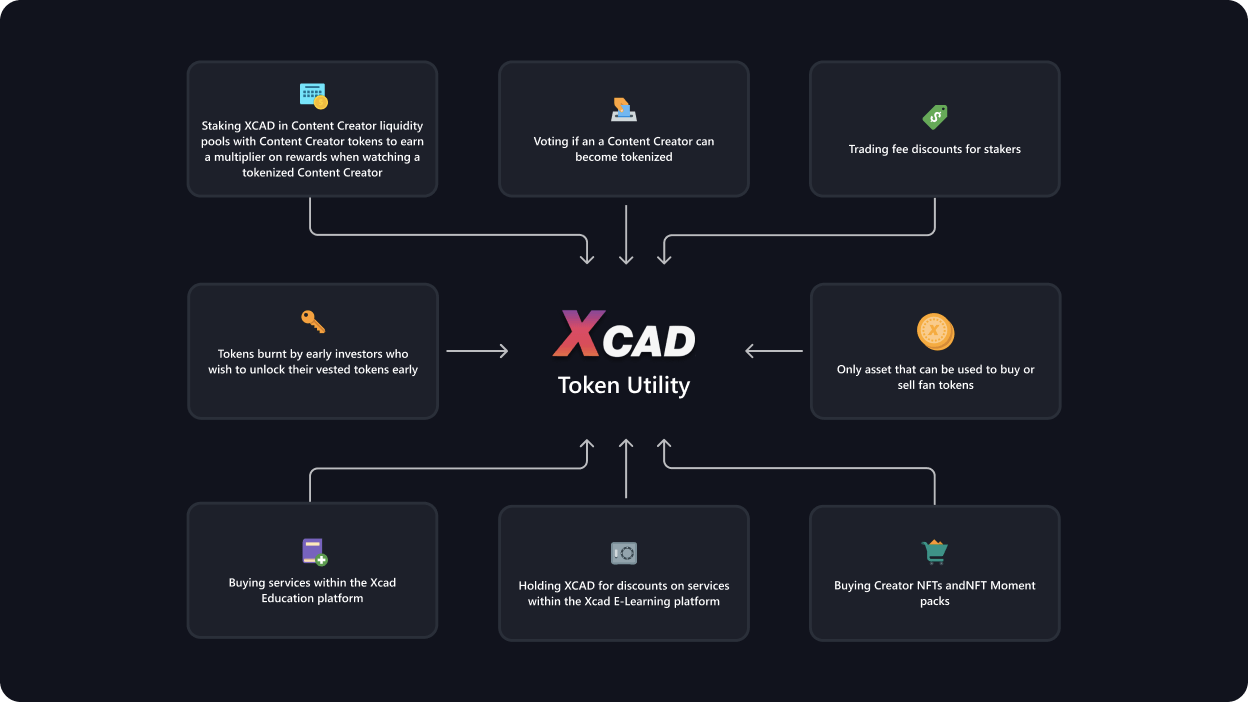 In addition, the token is used for governance and powers the entire XCAD platform.
The XCAD Network uses the Zilliqa Network as the core blockchain network. The team uses Scilla (award-winning smart contract language created by Zilliqa) for the content creator tokens, NFT tokens as well as the XCAD tokens.
Additionally, users will have the option to trade their XCAD tokens on the ETH and Binance blockchains due to the interoperability bridge being deployed by Zilliqa.
Token Economy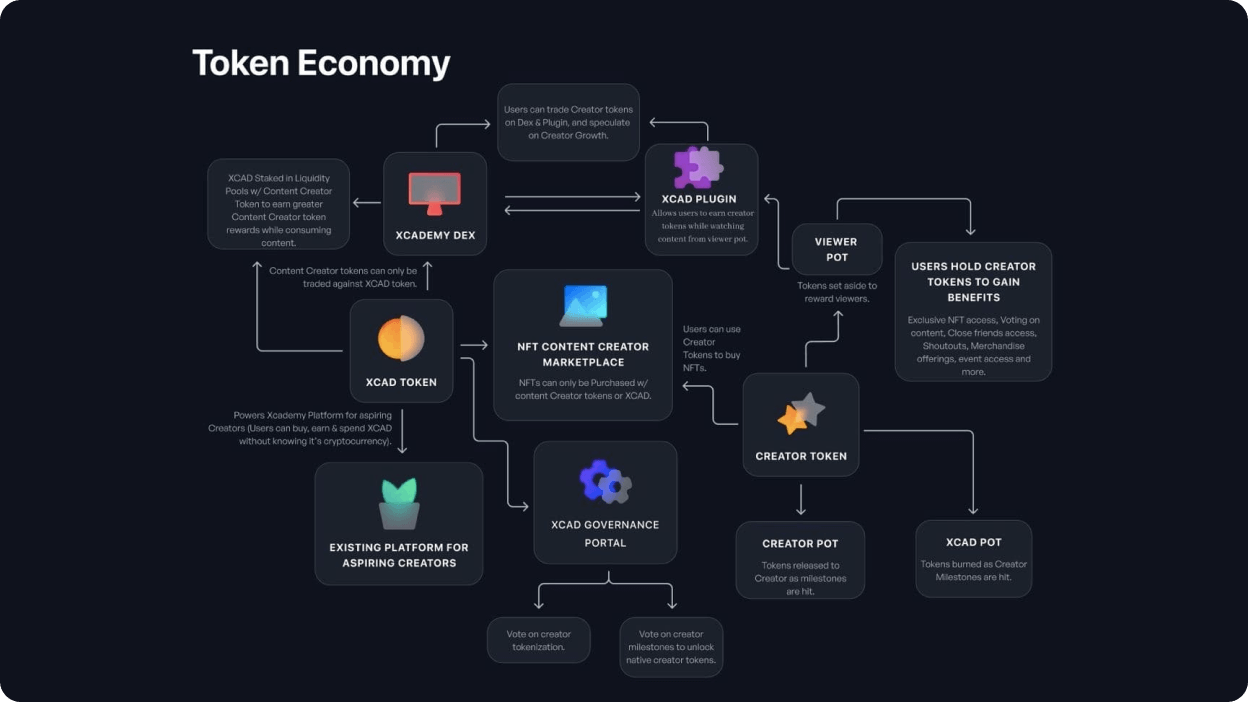 Currently, there is a circulating supply of 41 Million XCAD and the XCAD Network is valued at a market cap of $66,513,132.
The XCAD/INR trading pair can now be traded on BNS!
To learn more about the XCAD network, check out the following: