Itsmyne, a social-plus NFT marketplace by NFT Labs, Inc. partners up with Bitbns to facilitate fiat on-ramp through OAuth. Itsmyne aims to build a social-plus marketplace for officially licensed NFTs directly from athletes, sports teams, movie stars as well as production studios. The Itsmyne platform, being inclusive for Web 2.0 audiences, enables people to "talk NFTs, trade NFTs" while giving them the option to pay in fiat or crypto currencies, along with a custodial wallet system for a friction-free user experience. ITSMYNE is founded by an all-star team of second-time entrepreneurs in India and Kazakhstan and is backed by leading global institutions, with strategic partnerships to enable a wide variety of institutions to benefit from the inevitable disruption in business models due to NFTs.
How does ITSMYNE work?
NFTs form the core of ITSMYNE and with the NFT world evolving, the market is facing roadblocks in terms of demand and supply, this is exactly what ITSMYNE seeks to address.
ITSMYNE
requires a network capable of providing the best user experience while running on the ERC-721 codebase. As such, ITSMYNE has presently adopted a multi-chain approach, involving NEAR Protocol ($NEAR), Polygon ($MATIC) and Solana ($SOL).
Key offerings:
Itsmyne is solely community-driven and the features that they offer for creators and buyers is definitely eye-catching.
The features offered to
creators
consist of:
Environment friendly:

The NFTs are minted on the NEAR blockchain which consumes 2 million times lesser energy than Ethereum. ITSMYNE facilitates a multi-chain approach with support offered for Solana and MATIC as well.

Personalized onboarding:

Besides setting up a wallet, ITSMYNE offers advice on content, marketing copy, pricing & royalties to smoothly onboard creators hasslefree.

NFT-as-a-service:

ITSMYNE converts the raw digital content into a 3D format, videos in GIFs and any other creation technicalities required.

Predetermined earnings:

Creators can pre-define the percentage of royalties and earnings from the sale of NFTs, to be split between multiple creators. The listing goes live only when the involved creators agree to the proposed split.

Fiat currency:

Creators are provided with the option to receive their earnings in fiat currency. In addition, creators can list their NFTs and their value in fiat currency (with a specified cryptocurrency's price).

User-friendly experience:

ITSMYNE offers a user-friendly experience with constant support for their creators and buyers who are auto-assigned a custodial wallet automatically, to track their collectibles and any other related activities.
Buyers
are offered with several unique features which include:
The ITSMYNE community:

ITSMYNE is similar to Reddit, in terms of its nature, where buyers can interact with others, having the same interests, discuss memorable or noteworthy events in their respective field of interest and support their favourite creators. Buyers earn rewards in the form of MYNE tokens, when the ITSMYNE community upvotes the posts or comments.

Inclusive

: Users can transact in top cryptocurrencies or fiat via payment gateways such as RazorPay and Stripe, ITSMYNE aims to be an inclusive platform for crypto lovers and the non-crypto audience as well.

Top-notch:

Buyers have access to worthy, premium, authentic collectibles from film/cinema, movie stars, production houses, sports, athletes, sports teams, leagues, brands and team owners.

Ownership:

Buyers can opt for either complete ownership or fractional ownership. Flexible options for the collectibles are available, such as buy, sell, bid, swap, and gift.

User-friendly:

With the easy sign-up process, buyers can build up their ITSMYNE profile. They are also auto-assigned with custodial wallets to store their collectibles. All buyers have the option to export their NFTs into their own non-custodial wallets.

MYNE token:

Buyers can use the MYNE tokens for priority access to collectibles and to opt for fractional ownership.
Why ITSMYNE?
ITSMYNE's Unique Selling Point (USP) is NFT-as-a-service (NaaS) with the primary focus of this strategy is to allow easy, scalable and monetizable onboarding of the most influential brands, teams, influencers, athletes, stars and production houses.
The platform will soon be available on the iOS, Android play stores as well as a web-app. ITSMYNE's 1st product, a marketplace for officially-licensed Bollywood NFTs, launches within December 2021, with exclusive NFTs of the upcoming Bollywood movie, "83", starring Ranveer Singh and Deepika Padukone.
The MYNE Token
MYNE is ITSMYNE's native multi-utility token. It is a token that is issued on the Binance Smart Chain and is thus a BEP-20 token that is key to their ecosystem, for community governance, participation as well as treasury.
It serves as a benchmark that indicates the overall performance of the NFTs on ITSMYNE. In addition, MYNE is the base trading token for trading pairs with fan tokens that can be traded on ITSMYNE Swap. There is a maximum supply of 100,000,000 (100 million) MYNE tokens.

Uses:
MYNE is used for whitelisting the NFTs on ITSMYNE and partner applications.

It can be utilized for fixed as well as accelerated staking and pool farming. MYNE is required for fractional purchase pools.

MYNE must be used for the iTSMYNE Stars Program and by crowdfunders to earn dividends by contributing to the acquisition of NFTs.

Users are eligible to vote for decisions regarding the community's governance, ITSMYNE's development & governance by holding MYNE tokens.

ITSMYNE will be launching and managing numerous DeFi programs and users holding MYNE tokens can earn extra interest.

Users can also avail discounts on their purchases, depending on the amount of MYNE tokens they own.
Tokenomics: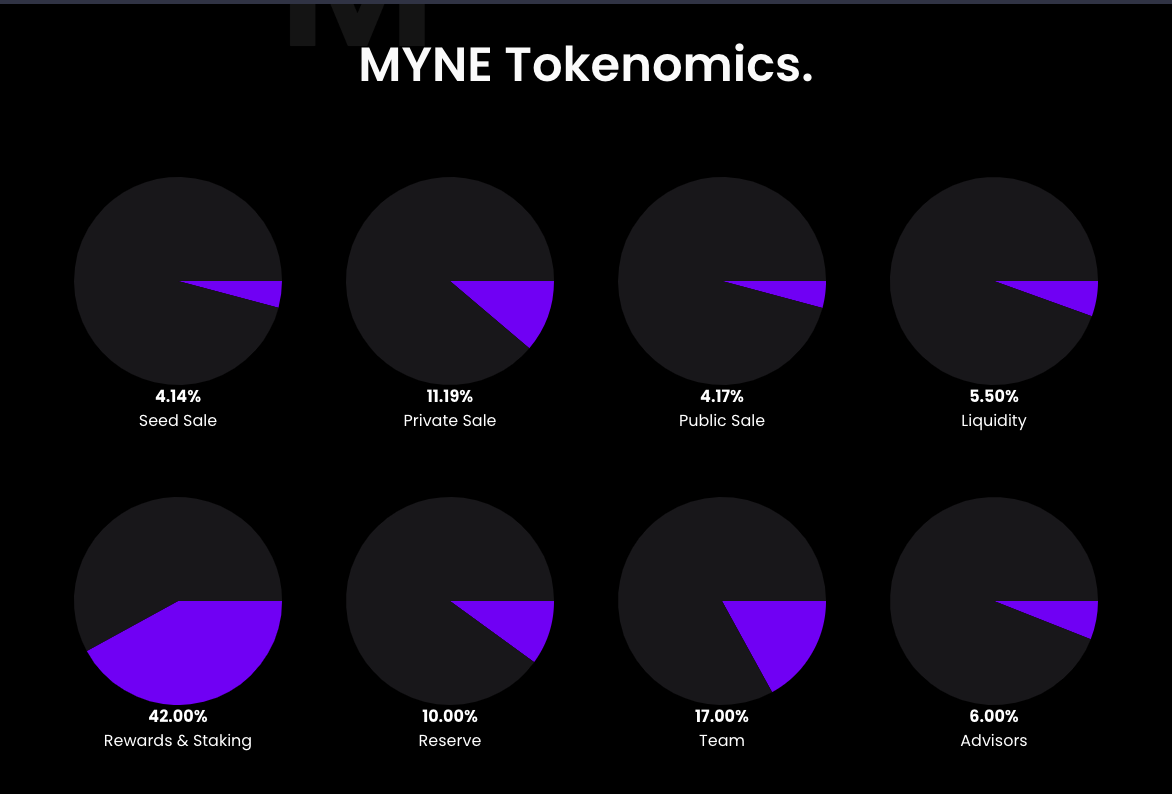 Where is ITSMYNE headed?
ITSMYNE is currently in the process of completing their roadmap planned out for 2021. The year 2022 holds some exciting launches within the ITSMYNE ecosystem including ITSMYNE Stars, ITSMYNE customer-side alpha on iOS, Android Play Store and more. The details can be found in their whitepaper linked below.
Important Sources
Website:
https://itsmyne.club/myne
Litepaper:
https://docsend.com/view/mhxig9w7weu44s2r
Deck:
https://docsend.com/view/yc7creve3x3km7vb
Social Presence:
Stay tuned for more updates!